State Track & Field
2023

May 18th-20th

Casper, Wyoming
For those of you that are not able to make it to State Track, the NFHS Network will be streaming the meet live, for a minimal cost. Click on the logo below to access the NFHS Network's site.For Technical Support, please email: memberadmin@nfhsnetwork.com or call 877-978-2311.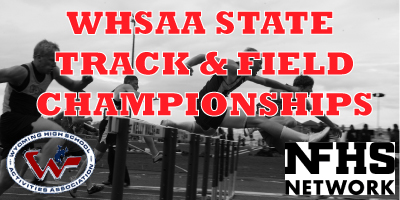 The NFHS Network is the exclusive broadcast rights holder of this postseason event. Any individual streaming an event is strictly prohibited and is in direct violation of the WHSAA's contract with the NFHS Network. Any violation of NFHS Network's exclusive rights may result in discipline by the WHSAA or legal action by the NFHS Network.
---
**PARKING AND ENTRANCE AT STATE TRACK**
Due to school being in session at Kelly Walsh High School, parking will be very limited in the area. Parking has been arranged at the North end of the Mall by the old Macy's. A shuttle system will continually drop fans off close to the main entrance of the stadium.
Please allow extra time in using the shuttle so you do not miss the event you have traveled to see.
There will be two entrances into the facility. We will utilize both ticket booths at the base of the press box.
---
---
HEAT SHEET QR CODE


AFTER ALL PRELIMS HAVE BEEN COMPLETED,
(100M DASH, 200M DASH, 400M DASH, 100/110M/300M HURDLES)
THE HEAT SHEETS WILL BE UPDATED TO ADD THE FINALS
HEAT / LANE ASSIGNMENTS

FINAL Heat / Lane Assingments will be posted after 12pm on Tuesday

BOYS

GIRLS

UPDATED

Last Updated - -am

Last Updated - -am

Last Updated - -am

Last Updated - -am

Last Updated - -pm

Last Updated - -pm

Last Updated - -am

Last Updated - -am

Last Updated - -am
---
RESULTS

LIVE RESULTS QR CODE



---

END OF DAY - CLASS RESULTS

---

END OF SESSION - AP FORMATTED RESULTS

THURSDAY

FRIDAY

SATURDAY
---
TICKET PRICES

ADULT

STUDENT

All Sessions

$13.00

$9.00

All Sessions - Fri & Sat

$11.00

$7.00

THURSDAY

All Day

$5.00

$3.00

FRIDAY

All Day

$6.00

$4.00

Afternoon

$4.00

$2.00

SATURDAY

All Day

$6.00

$4.00

Afternoon

$4.00

$2.00